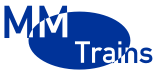 Vorübergehend offline ...
Liebe MM-Trains-Besucher,

Im Rahmen der Designüberarbietung aktualisieren wir gerade einige Dateien.
Die Galerie ist in Kürze wieder erreichbar.

Unser Forum ist währenddessen aber wie gewohnt erreichbar.
Wir bitten um Geduld und Verständnis.

Das Admin-Team.


Dear MM-Trains visitor,

We're cuurently updating some files and will be back soon.

The forum is not affected by these works and can be accessed as usual.
We kindly ask for your patience and hope to get the site back online as soon as possible.

The Admin-Team.